Sunday, October 31, 2010




Prize:

Two winners will receive a True North by Leighderhosen T-Shirt (a $37.95 value) or Ruca by Whitney Lenox T-Shirt (a $29.95 value).

Sign the Google Spreadsheet above.



Entry Limit:

Daily



Note:

You can list bonus entries separately or all in one entry - your choice!




Moodswings has the best selection of clothing and accessories for people who dare to be different and stand out amongst the crowd. They have everything from rockabilly to nerdy and retro to goth. The company and partners have been recognized in the industry and enjoyed local and national press and media attention. Moodswings Inc. has worked with television networks, producers, promotional directors and public relation firms on special projects, music videos, theatre, with staging directors and props. Their client list includes FOX Network, MTV "Made," Broadway Theatre, Night Club New York, CSI, Transformers, Amazing Technicolor Dreamcoat and thousands of other fabulous everyday customers. Moodswings Inc.'s charity work includes donating over 800 pairs of shoes for hurricane Katrina relief. Moodswings Inc. continues to support numerous educational activities through many organizations primarily focusing on local areas of need.

Moodswings Inc. sent me the Mija by Lizz Lopez Heathered Tee ($37.95). These darlings may look innocent and sweet, but they are about to shoot you up for the electric chair. Au revoir, girlfriend! I have just started getting into wearing tees and this one has become one of my favorites to wear. It is comfortable and cute! Plus, it has a retro look that I adore. This preshrunk grey heathered t-shirt is made with premium 100% cotton fabric with a soft design touch and quality printing techniques.



The product in this review was provided to the reviewer for keeps and the purpose of writing a review. This in no way effects the quality of the review provided. No monetary exchange occurred in exchange for the writing of the review. The views expressed in this review are strictly that of the reviewer. All reviews provided here are the work of the reviewer and remain completely unbiased.





Two Faced by Whitney Lenox Short Sleeve V-Neck Hooded Pullover $67.95



Loungefly Hello Kitty Face Black Quilted Vegan Purse $47.99



Classic Hardware Caia Koopman Day of The Dead Cigarette or ID, Business, or Credit Card Case $35.99



Blackbird by Tyson McAdoo Deep V-Neck Burnout Tee $33.95



Good Old Chap by Tyler Bredeweg Tattoo Baseball Tee $33.95



Loungefly Hello Kitty I Love Nerds Black Chalkboard Print Macbook Laptop Case $45



Hard Tail by Tyson McAdoo Tattoo T-Shirt $33.95



Twitter:

http://twitter.com/moodswingsinc



Facebook:

http://www.facebook.com/pages/moodswingsonthenetcom/141657914206?ref=ts




- Follow Fashion Fling via Google Friend Connect.
-

Tweet this:

@moodswingsinc Tee #Giveaway @FashionFling http://bit.ly/9edn0p

- Follow Fashion Fling on Twitter.
- Like Fashion Fling on Facebook.
- Add our blog button on your sidebar.
- Stumble this post.
- Join the forum.






- Stumble this post.
- Add our blog to your blog roll.



The giveaway will conclude November 15th

.

Note: The winner will be randomly chosen through Random.org.

Winner must respond within 72 hours of notification.
Saturday, October 30, 2010
Picture source
HAPPY HALLOWEEN! What are you wearing?
WWD (Women's Wear Daily), the media of record for the fashion, retail and beauty industries, celebrates 100 years of distinguished journalism with a special anniversary issue featuring the remarkable history of fashion and style as reported by WWD. The 321-page commemorative issue boasts a visually spectacular cover with a cavalcade of influential fashion luminaries and celebrities from the past century.
The centerpiece of the 100th Anniversary issue is "
The 100 Remarkable Moments
." It is a wide-ranging WWD-look at the designers, celebrities and trends (from the sublime to the ridiculous), plus joys and a few real tragedies that have impacted the world and the world of fashion since 1910. From flappers to first ladies, Chanel to McQueen, and hip hop to couture, "
The 100 Remarkable Moments
" highlights the flashpoints that shaped WWD's first century of style.
The collectible issue also has a variety of stories and special features that offer a look through WWD's unblinking lens of fashion and popular culture.




"We Said It"
– WWD's John Fairchild coined the term "Fashion Victim," and there are many more unforgettable zingers and witty bon mots.
"Life and Times"
– A rich visual history of WWD from 1910 to 2010.
"Who Knew…"
– A look back at a few of the paper's more memorable – and surprising – stories.
"Almost, Almost Famous"
– Early WWD interviews with some now-famous faces before they topped the pop-culture charts.
- "They Said It"
– This is approximately 262 WWD quotes from some of the most exciting, intelligent and outrageous personalities of the past 100 years.
The
WWD 100th Anniversary
issue will be available from newsstands and bookstores nationwide on November, 1, 2010.

Other WWD 100th Anniversary Highlights:

WWD at 100 Anniversary Gala
– WWD will kick up its heels to host an exclusive, invitation-only anniversary celebration at Cipriani 42nd Street in New York City on Tuesday, November 2.
Online Designer Charity Auction
- The WWD @ 100 party will also boast the live preview of the one-of-a-kind lots in a special online charity auction featuring 21 of the world's top designers who have created celebratory items for WWD's 100th Anniversary. The auction will benefit each designer's charity of choice. The CharityBuzz-hosted auction will start on November 2, at 11:59 PM at WWD.com/auction, and continue through until November 18. The designer items include gowns by Armani Privé, Donna Karan, Calvin Klein Alberta Ferretti and Oscar de la Renta, a vintage Jeep Wagoneer from Tommy Hilfiger, a megamural hand-crafted by John Galliano and a Chanel ensemble designed by Karl Lagerfeld.

WWD: 100 Years/100 Designers
- WWD is also celebrating the momentous anniversary with the November 1 publication of a new 312-page large-format book, featuring a foreword by WWD Executive Editor Bridget Foley. The book is filled with lavish illustrations, stunning photographs and recognizes 100 designers whose work helped define the past century. WWD 100 Years/100 Designers is published by Fairchild Books and available at
Amazon.com
.
"My name is more important than myself." said Pierre Cardin.

Our names are the signifiers of our identity and our "personal brand". That`s why ones name is excellent jewellery and celebrities love name necklaces.








I wanted a name necklace ever since I saw it on Carrie in Sex and the City and now I finally got mine.








I got the Carrie style necklace in sterling silver from www.MyNameNecklace.com and I`m super happy with it. They are fast, service is very friendly, free shipping worldwide and you can pay through PayPal or credit card. Great site - highly recommended.

I think a name necklace makes a great, personal christmas gift as well.




Friday, October 29, 2010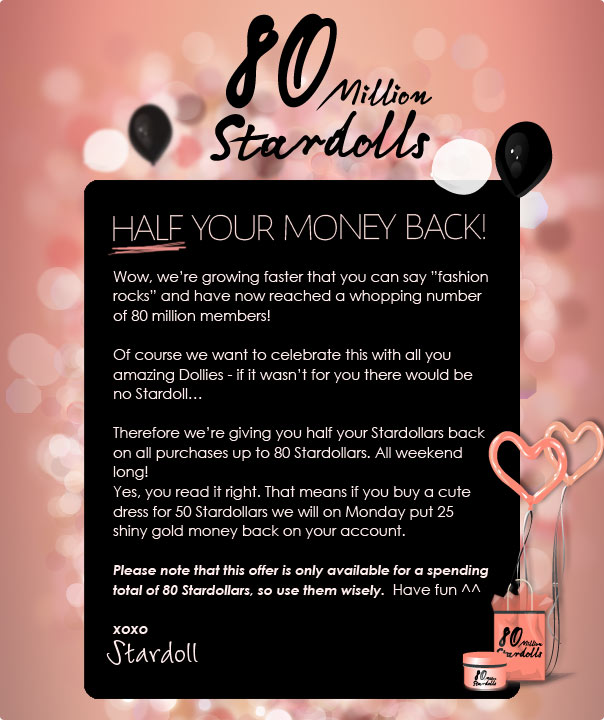 Hi guys!
Stardoll finally reached 80 Million Members!Congratulations Stardoll!
Because of this event,Stardoll is giving us back on Monday 50% of our weekend shopping.That's a really good offer.
Remember
that this offer is
only
for the first
80 stardollars.
xoxo Eris/MissAdelajda100
A new trophy has appeared in the spoilers and it looks like its got to something to do with around the world.Any guesses?
UPDATE
As I read on some other blogs,this might be the trophy for the winner of Miss Stardoll Word.