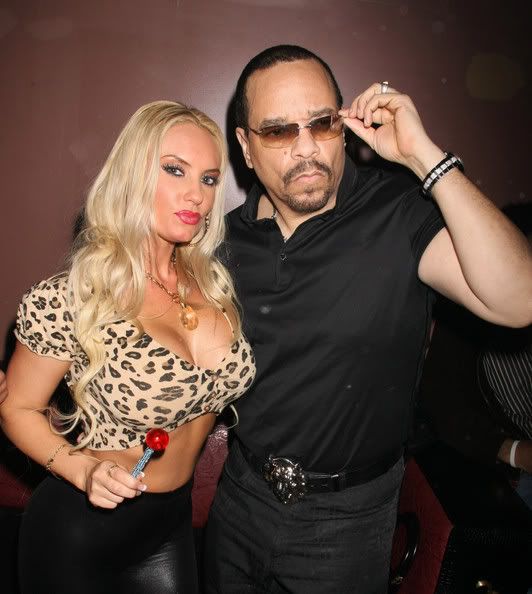 The always outspoken actor and reality tv star Ice-T recently drew attacks from critics and fans after he made some pretty shocking statements about some of his fellow reality tv stars from "RHofBH" "Jersey Shore" and "BBW." He even went as far as called the "BBW" stars "H*e$." Get the deets inside....
The world of pop culture and reality tv was dealt a shock recently when it was announced that Russell Armstrong, the husband of Taylor Armstrong from "The Real Housewives of Beverly Hills" was found dead of an apparent suicide. And while most people stray away from jokes of a sensitive nature, Ict-T set it off recently when he tweeted:
"The lack of people caring about REAL issues has caused the media to focus on dumb s--t like TWITTER comments."
And then it gets better....
"Bad joke..but alotta those wives would make me consider it." (Obviously referring to the suicide).
Deep sigh. But his comments didn't stop there. While he also stars in his own E! reality show "Ice Loves Coco" he made a few disparaging comments about "Jersey Shore" and "BBW."
In a recent interview, Ice said,
"A guy asked me my key to success & whats the difference between us. I said 'Did you see the last 3 episodes of Jersey Shore?' Yes 'I didn't'."
And what does he think of Shaunie, Evelyn, Tami and Jennifer on "BBW"?
"Speaking on Wives shows...Are any of the 'Basketball Wives' even married??? ...So shouldn't it be called.."Basketball Dumped H--'???"
"Hey! People love to call my wife a H--," Well at least she is a WIFE."
Well....I can't argue with that last comment because people say a lot of ish about Coco but she does have what appears to be a healthy, loving marriage....at least from what we can see....
Source: http://theybf.com/2011/08/18/ice-t-lashes-out-at-other-reality-tv-stars-calls-the-stars-of-bbwthe-basketball-dumped-ho
Abbie Cornish Adriana Lima Adrianne Curry Adrianne Palicki Aisha Tyler