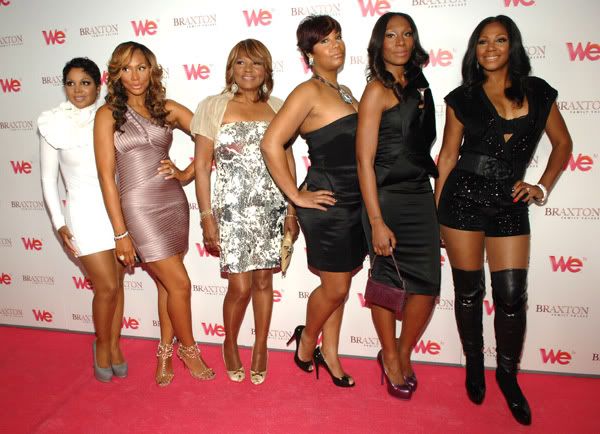 WEtv has confirmed that they've ordered 19 new episodes of "Braxton Family Values" and all of the fun kicks off this fall. Get the deets and a sneak peek inside.....
The execs over at WEtv said weloveit.com and ordered 19 new episodes of the sisters' hit reality show "Braxton Family Values" to begin airing this fall.
According to reps for WEtv, the new season begins on Thursday, November 10th at 9pm ET/PT and we'l finally get to see...
-Who exactly is Toni dating now?
-Did Traci get a shot at the stage?
-Did Towanda leave her jobless husband Andre for good?
-Did Trina quit the bottle and maybe even her husband?
-Did Tamar finally sign the contract?
-Did Evelyn and Papa Braxton finally bury the hatchet?
Here's a sneak peek:
Hmmm.....seems like the lovely Braxton ladies will be tackling a lot of personal issues this season. I can appreciate the fact that they bring the drama without tacky drink throwing or name-calling (except for Evelyn getting called a "dirty lie" by Daddy Braxton). Really hoping Papa and his foolery return as well...
Source: http://theybf.com/2011/08/18/sneak-peek-braxton-family-values-is-back-with-19-episodesthis-november
Keira Knightley Kelly Brook Kelly Carlson Kelly Clarkson Kelly Hu